The Sloan Digital Sky Survery (SDSS) photometric system is the most common filter set used by observatory today. Antlia Photometric Sloan filter set includes four filters covering 400nm to the sensitivity limit of silicon CCD cameras near 1100nm. Ion Gun Assisted Deposition coating technology on the double-sided polished substrate makes them the most consistent, durable and accurate filters. Antlia Sloan filters have almost total suppression of optical density (OD)5,the result is that our photometric sloan filters minimize the already small leakage and create a superior contrast.
Spectrum curve: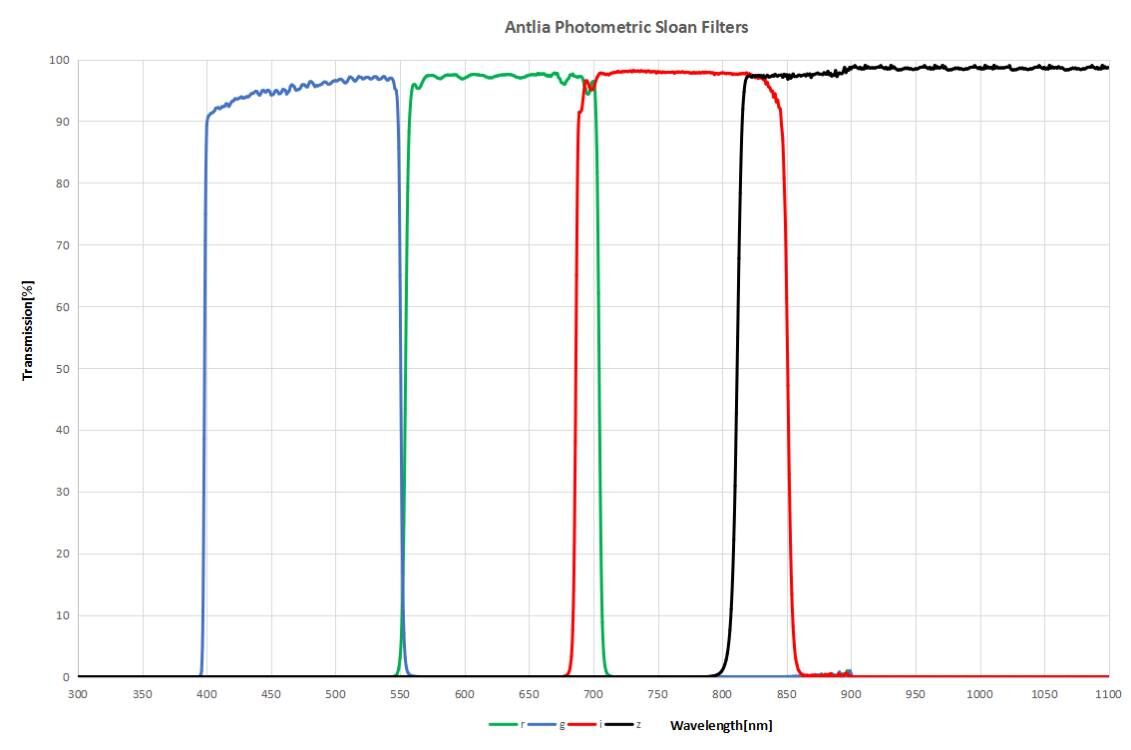 Application and Performance:
Wider transmission windows, which allow fainter objects to be measured in a shorter time
Antlia Sloan griz' filter set is suitable from f/15 to f/1.8
Peak transmission guaranteed > 98%(g'>95%)
Identical filter thickness to existing standards, with utmost care for parfocality
Each filter coated individually, NOT cut out of a larger coatings plate
1/4-wave propagated wavefront prior to coating
Technical Specifications:
Filter Name

Wavelength

Peak Transmission

Blocking

Filter Thickness

for D50mm only

g'

400-550nm

95%

≥OD5

3mm+/-0.05mm

r'

555-705nm

98%

≥OD5

3mm+/-0.05mm

i'

688-850nm

98%

≥OD5

3mm+/-0.05mm

z'

>812nm

98%

≥OD5

3mm+/-0.05mm
Due to the mediocre quantum efficiency of the cameras in ultraviolet band range, we do not produce u' (300nm-400nm) filter.
The Antlia Photometric Sloan Filters set can be purchased individually.